Breast Augmentation And Abdominoplasty
Surgical Procedure
During breast augmentation, a breast implant is placed either under the breast tissue and over the chest muscle, or under both the chest muscle and the breast tissue. Your surgeon will advise you on the most suitable procedure for you. This helps to increase or balance the size of the breasts, restore breast volume, or restore the shape of breasts after partial or total loss.
In doing an abdominoplasty, the excess skin and fat are removed surgically from the abdominal area. A low abdominal incision across the pubic area, from hip to hip, and sometimes from the navel down is made. Depending on the needs of the patient, the muscles of the abdominal wall are tightened. If loose skin and muscle weakness are limited to the area below the navel, a slightly different procedure – which usually leaves a smaller scar and no scarring around the navel may be performed.
Duration of Operation
7 HOURS
Anaesthetic
GENERAL ANAESTHESIA
Pre Operative Care
For the planned breast augmentation,you will have to make a choice and in agreement with your surgeon about:
1. your desired cup size
2. placement of the implant
2.1 under the breast tissue and over the chest muscle
2.2under both the chest muscle and the breast tissue
3. placement of incision
3.1 armpit incision
3.2 areola incision
3.3 crease incision or under the breast (inframammary fold) )
4. type of implant content = silicone-filled or saline-filled
5. shape of implant = round or teardrop (anatomical), moderate or high projection

Before surgery please inform your surgeon of any allergies, all medical conditions, and any medication that you are taking (both prescription and non-prescription).

To eliminate the chance of post op. bleeding you should avoid aspirin and any medication containing aspirin for two weeks prior to surgery.

You should also not smoke for 2 weeks prior to surgery as smoking can affect your reaction to the anaesthetic and slow down the healing process.

Patients that suffer from hypertension must inform the surgeon prior to surgery. In your consultation you should discuss your expectations of the outcome of the surgery and listen to the surgeon's opinion.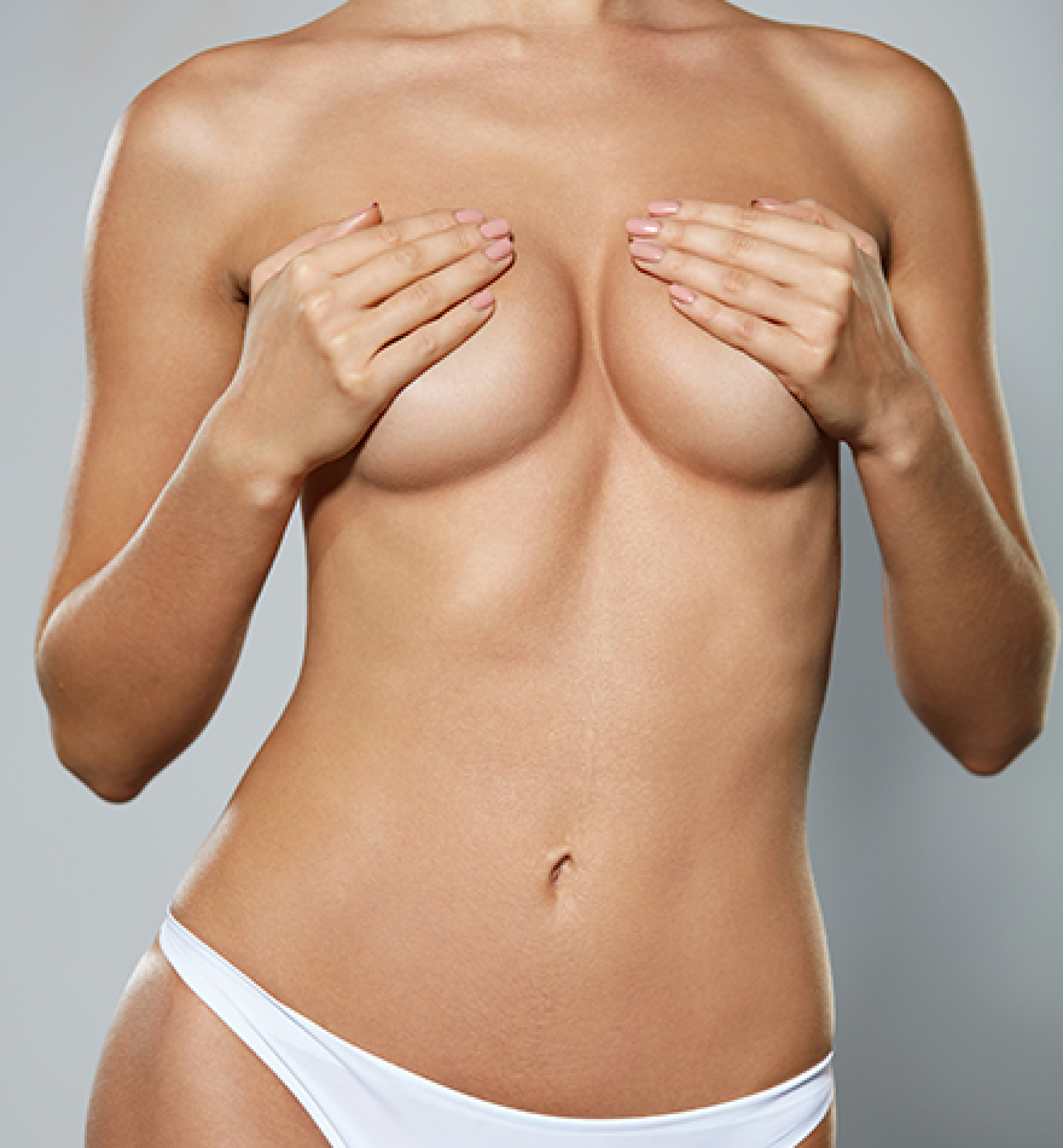 Post Operative Care
Oral antibiotics, pain reliever, anti swelling medications and wound dressing material is provided upon discharge from the hospital. Instructions on breast massage and wound care is also given.
Bruising, swelling, soreness, discomfort, mild numbness, burning sensation and extra sensitivity to your nipples are not uncommon on the first few days up to a week following breast augmentation surgery. This will resolve within 2 weeks.
The abdomen may be dressed with bandages and you will experience some compression across the abdomen. You may not be able to stand straight for some time due to the compression. A light surgical support garment must be worn for approximately 3 months to support the tightened area following surgery.
The recovery period is usually about 2 weeks. While there may still be some swelling and bruising, most people are happy with the result and return to work after approximately 4 weeks.
Risks and Complications
Risks are inherent to any surgical procedure. Capsular contracture occurs if the capsule or shell around the implant begins to tighten and thicken. This will cause the breast to feel hard and appear unnatural. This can be prevented by regular self massage. Should this occur, removal of the capsule is required or perhaps implant may need to be replaced. If breast does become infected from collection of blood or deflated, implant must be removed immediately. You will need to wait for several months before repeating the operation. With the advent of silicone gel filled implant, chances of deflation has been eliminated.
The most common risk particular to abdominoplasty is long and heavy scarring. The incision may heal slowly causing crusting and scabbing along the scar. All precautions are taken to avoid these risks. Once the healing process is complete, it is essential to maintain a balanced diet. An unhealthy diet will invariably lead to weight gain which will stretch the skin and increase the possibility of heavy, permanent scarring. In most cases abdominoplasty produces excellent results, and with a balanced diet and regular exercise, the results are long lasting.
Results
For many women, including those who may have undergone a mastectomy, childbirth or weight loss, you will notice a magnificent improvement and initial scarring will gradually fade. Though results may vary, the overall effect is enhancement of breast size for improved appearance.
Abdominoplasty restores weakened or separated muscles creating an abdominal profile that is smoother and firmer.
More from the Breast